PURE Sinus Rinse Solution – 40 Individual 4.5g Packets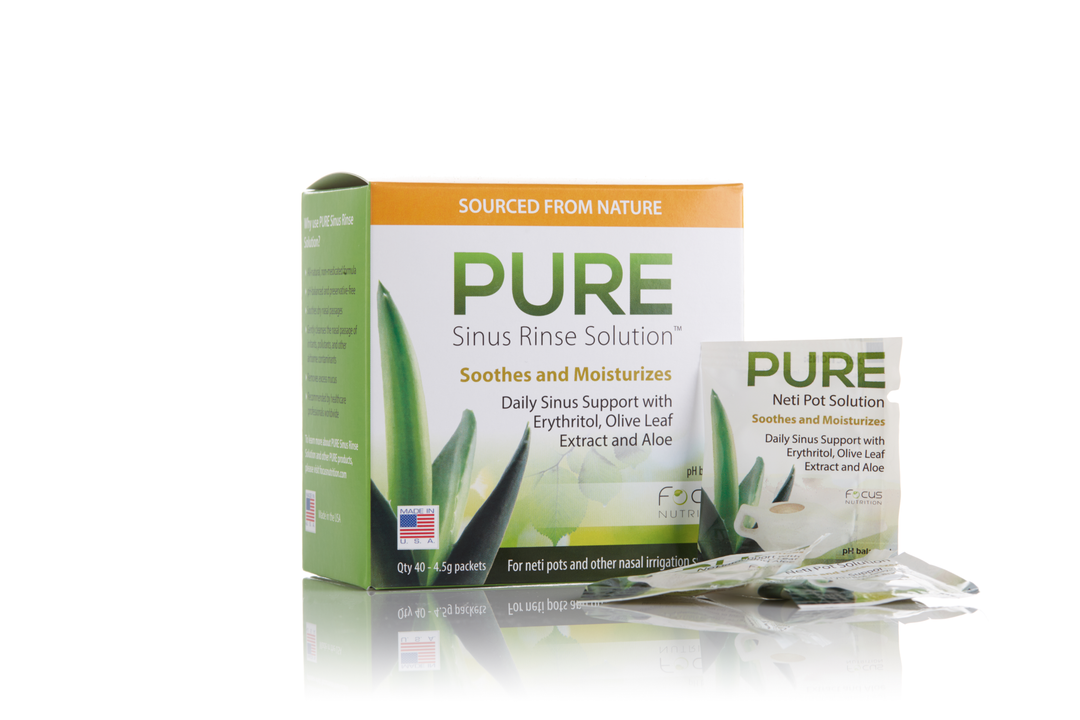 PURE Sinus Rinse Solution – 40 Individual 4.5g Packets
In stock, ready to ship

Inventory on the way
PURE Sinus Rinse Solution offers sinus support designed to cleanse passages and relieve irritation without the use of harsh chemicals or drugs. The unique combination of erythritol, aloe, and olive leaf extract helps cleanse nasal passages of irritants and other airborne contaminants as it gently moisturizes and soothes tissue. The nasal passage contains one of the body's first lines of defense against illness. Studies show that using a nasal irrigation system can help improve the health of those with sinus issues.
Why use PURE Sinus Rinse Solution? 
Non-medicated formula
pH-balanced and preservative-free
Soothes dry passages
Gently cleanses the passage of irritants, pollutants, and other airborne contaminants
Removes excess mucus
Recommended by healthcare professionals worldwide
Directions: Fill neti pot/irrigation system with lukewarm, purified, or distilled water only (do not use tap water). Stir in one packet of solution. Allow contents to fully dissolve, occasionally stirring for about one minute. Follow instructions provided with neti pot/irrigation system.
Warning: Use of a neti pot/irrigation system by more than one person may spread infection. Use lukewarm, purified, or distilled water. Do not use tap water. Do not microwave. Do not use boiling or hot water. If pregnant or nursing, consult a physician before use. Keep out of reach of children. Do not rinse if the passage is completely blocked. Consult a physician if symptoms persist.  
Erythritol, Sodium Chloride (salt), Sodium Bicarbonate, Aloe Vera, Olive Leaf Extract.